K&K Gift Wrap &
Accessories
Why Buy From us?
Excellent customer service
Premium made quality products
All items are made in the USA
Tons of happy and satisfied customers- check out our reviews to see why our customers love our products!
All items in stock & ready to ship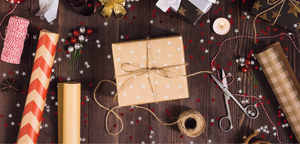 Our Vision
We welcome you to K & K Gift Wrap, LLC! We are a dynamic mother & daughter team striving to bring some holiday cheer to your home with our beautiful reversible gift wrap. As we all know representation matters & we are delighted to offer you our very own African American Santa Gift Wrap which is also reversible! So many times I searched for diversity in big retail stores as a parent and never found any so we created our own.

Instead of offering a huge unoriginal collection, we carefully curate just a few unique pieces. We have something for everyone & hope you give us a try. Our plan is to expand our product line each year! We are also offering our first book of many, Kayla's First Day of Pre-K! Make sure you get a copy!
Thank you for visiting & Happy Holidays!

~Keesha & Kayla~
Shop Now
Our Happy Customers!
Very impressed with this wrapping paper, great quality! I ordered the reindeer design and I can't wait to see my presents under the tree this year. Shipping was fast, I'm on the West Coast and I received my package within 3 days. Customer service is amazing, I definitely recommend and will be purchasing from Keesha and Kayla again!

Naima Pinky Sanchez
I love everything about K & K!!! The paper is thick easy to cut and fold!! Two different designs, very colorful!!! Great for all ages!!! Easy ordering and fast service!!! My 4 rolls were beautifully packaged no damage when it arrived to my door!!! The best!!!! Highly recommended and will order again!!!

Alisha Brown
The gift wrap is beautiful, and the customer service is awesome. I love the fact that the rolls are reversible so you get more than one style with each one. I would definitely recommend this business and will be shopping again!

Tyneisha Nikki Clemmons Sinclair
The vendor is amazing great customer service materials are high end price's are reasonable. I would highly recommend them for high energy making sure all your needs are met.

Eric L Bolding
Love my Christmas Gift Wrap. Good quality paper and I love the reversible sides.

Patricia McKnight
I LOVE THIS PAPER...so many creative ways to make your gift stand out...and the quality of the paper is amazing....its double sided, so you're getting "two"for the price of one!

Emily Rogers
Just received my wrapping paper and I'm very impressed I got all 4 designs but the King Clause is the one I'm going to wrap the grandkids gifts in Definitely a satisfied customer

Marteke Latwuan Franks
This wrapping paper is amazing! I purchased JOY. The black, white and gold design is festive, yet sophisticated and offers an alternative to traditional Christmas colors. The paper is double-sided giving you 2-in-1 wrapping paper. It's the perfect thickness and cuts easily.

Karena Brown
When I saw what wrapping paper K & K Gift Wrap, LLC had to offer, I just could not pass up on this paper & I'm glad that I didn't! The paper is perfect, it's not thin & flimsy at all. When Skylar saw King Klaus, she was so happy & excited!! Thank you K & K Gift Wrap, LLC for offering paper that represents us.

Edwina Small
new item!
Kayla is not quite ready for her first day of Pre-K! Nervous about the unknown, she turns to her mom for comfort while wondering about her new teacher and potential friendships. Join Kayla as she embarks on a delightful adventure where she conquers her fears and discovers the joys of learning!
Buy Now
Note from the author
Hi Everyone,
I have ventured out to writing children's books under the pen name Nicole Wright. I have had the honor of working with many families throughout my career span as the owner of a thriving childcare facility. I wrote this book in the hopes of providing a positive experience for children as they prepare to transition to Pre-K. Thank you for the support and I hope you enjoy Kayla's First Day of Pre-K!
Love,
Nicole Wright